DOES YOUR CURRENT AUDIT STRATEGY
Increase your compliance workflow's effectiveness?
Conduct audits of compliance activity for specific regulations?
Address the compliance risks of your business/unit as part of its overall audit function?
Improve your business performance& competency?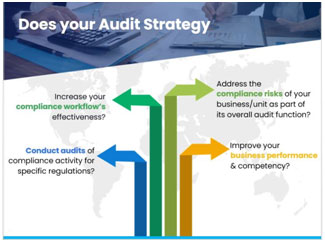 Scope of Internal Audit
The role of internal audit is becoming more central and strategic. The scope of internal audit has grown from compliance to financial controls to more strategic decisions. It demands more skills and expertise from internal auditors.

Need for Technical Skills
In this digital age, having only traditional skills is not sufficient. Lacking the required technical skills can slow down the internal audit processes & business performance

Power of Automation
Harnessing automation for the audit performing processes is necessary to enable the internal auditors, move away from repetitive and mundane tasks towards more strategic assignments.
INTRODUCING COMPFIE AUDIT
A bespoke audit management platform that
Facilitate auditors to carry out audits, capture observation and, generate audit certification virtually
Provides visibility on the entire audit process to the various stakeholders in the organisation
Ensures readiness for audit throughout the financial year for the organisation
Exclusive audit module to carry out audit and view observations given by internal/external audit team
Provision to GenerateCompliance Certification and view the approved Final Audit Report
All audit inspectionscan be conducted virtually with ease.
Uploads audit findings,maps them to risk through automated controls.
Reminders & Escalationscreated to close audit observation within specified timelines
Easy Compilationof the audit findings into a comprehensive due diligence report
Virtual Audit Processesfor statutory auditors, internal auditors & Company Secretaries.
Live and Real-time Reports for internal audit committee & by third-party auditors accessible